Did you know we install all winter long? 
Winter, Schminter! We have our Winter Worry-Free Installation Program [1] for full peace of mind.
Many New England homeowners are in need of new efficient windows, siding, roofing, and entry doors due to old products, drafts, leaks, and high energy bills. With the increase of National Grid spike [2] of over 108% since last fall, it's no wonder why you are in need and need to act now.
This Article Will Discuss: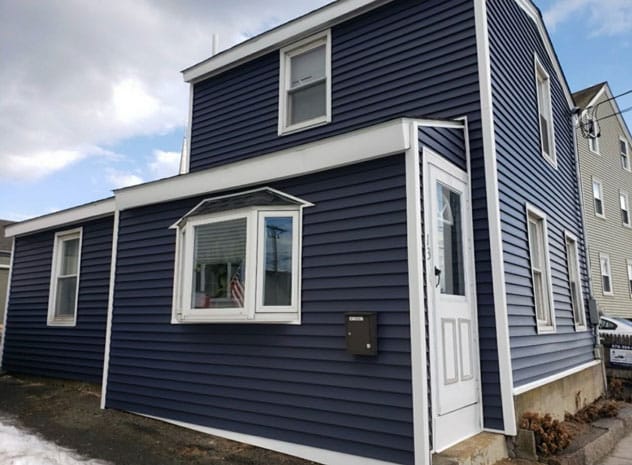 We want to let you know that winter is a great time to replace inefficient exterior products that cause energy bills to skyrocket! 
Winter doesn't mean you need to put off your home improvement projects until spring. We are trained to work in ALL weather and understand your concerns/ hence we enhanced our Winter Worry-Free Installation Program 
No more worries about feeling stuck with those drafty windows [3], an old leaky roof, cracked inefficient siding, and high energy bills waiting until Spring. Winter-Schminter-you got nothing on Coastal! 
With our Winter Worry-Free Installation Program [1], you'll have peace of mind knowing that our siding contractors [4] work quickly without losing quality or craftsmanship. Meanwhile, we prep your home for minimal heat loss during the installation process.
How Do You Install Vinyl Siding in the Winter?
In a perfect world, we'd install vinyl siding in spring-like temperatures. But here in New England, we all know that the weather is less than perfect. So, how do you install vinyl siding in the winter? The first step is to understand how the temperature affects building materials, specifically vinyl siding.
[5]
How Vinyl Siding Changes in Cold Temperatures
Temperature changes cause all building materials to expand and contract. In a building material, as the temperature rises, the material will expand in length, conversely, as the temperature drops, the material will contract in length. All building materials have this property, but vinyl tends to have a higher rate of expansion than materials like wood. An average vinyl siding piece measuring 12′ long can expand up to ½" during the course of a year [6]. 
Vinyl Siding Shrinks in Cold Weather: Cut Accordingly
While ½" might not seem like much, the truth is that it makes a big difference when it comes to vinyl siding installation in the winter. Vinyl siding expands and contracts in reaction to temperature, so vinyl siding installers will need to cut the panels as necessary to work with growth and shrinkage. 
Can you install vinyl siding in the winter? Yes, and we'll give an example. If it's 30 degrees outside, vinyl siding installers need to consider that the vinyl will expand when it warms up to 80 or 90 degrees. This means they will need to accommodate the siding to expand by up to ½" inch in the heat.   
This is when we'll cut the siding at lengths to allow the vinyl siding to expand during the summer months. It's critical to pay attention to window and door casings as well. When vinyl siding gets too close to the window and door casing,  it expands until it hits the casing and then it begins to buckle. In this example, an extra 1/4″ space for expansion is wise.
The Art of Nailing in the Winter
Cutting the vinyl siding to proper lengths is both an art and a science, but it turns out that nailing is important in the winter as well.
Experienced vinyl siding installers [4] know that the nail should never be tight against the nailing fin. This is because the head of the nail needs about 1/16" space between the nailing fin. 
Furthermore, the nailing technique must allow for the vinyl siding panels to move freely. When the vinyl siding cannot grow during the summer, it results in buckling—which is bad news. 
Coastal Windows & Exteriors is highly skilled and experienced at vinyl siding installation in the winter, providing you with a worry-free experience from start to finish.
Why Should You Install Vinyl Siding in the Winter?
If you are considering installing vinyl siding in the winter, we encourage you to take on this project! There are plenty of benefits of installing vinyl siding [4] in the winter, such as:
Get ahead of the spring rush

, especially if you are concerned about a

materials shortage

[7]

.

Improve the appearance of your home and

prepare it for spring curb appeal

Remove the

risk of moisture damage or wood rot from old wood siding
Add superior protection to the elements, ranging from snow to freezing rain and high winds 

Increase your property value if you plan to sell your home this spring

Potentially lower energy bills [8] by reducing heat transfer
Maintain a comfortable home with insulated siding
During the winter season, you're likely concerned about energy efficiency. Everyone knows that replacement windows [9] are incredible upgrades for energy conservation, but what about vinyl siding?
As one of the best reasons to install vinyl siding in the winter, insulated house siding can make a big difference in interior comfort levels as well as energy conservation. Let's talk about insulated house siding and why you should upgrade with this product in the wintertime.
What is Insulated House Siding?
Insulated siding is designed with a solid-ridge foam as a backing. This foam stands as an additional barrier against heat transfer. Engineered as foam back siding [10],  it makes it much more difficult for energy to escape through the wood studs.
Insulated siding is vital for home performance. The truth is that other material options of cladding won't insulate your home as efficiently, which includes uninsulated vinyl.
While wood is a natural insulator, the problem arises when it is not properly maintained. Without regular maintenance, wood cannot provide the insulation benefits that you would expect.
The Surprising Trouble With Studs (Wood & Metal)
Keep in mind that most types of exterior walls have insulation between the wall studs. The problem is that significant energy is lost through the wood studs themselves.
You might wonder how studs could possibly allow so much energy loss in a home. One important point that most homeowners don't know is that wood studs take over about 25% of a wall's surface. You don't see them because they are inside the exterior framework, namely the drywall which is up against the exterior wall.
Think of this as 25% of your wall working against your attempts at keeping your home comfortable.
Whether you are trying to keep your home warm or cool, what metal studs are both poor insulators. Once the wood studs come in contact with the exterior cladding, it is easy for energy to pass through them.
This is known as thermal bridging.
What is Thermal Bridging?
Thermal bridging is the process of energy moving through or across an object that is more conductive than the materials that surround it. The conductive material—metal and wood—allow the heat to pass right through.
From there, your energy bills can increase significantly. It's very similar to having an entire wall of your home uninsulated. 
How Insulated House Siding Can Help Your Home All Year Long 
It's true that thermal bridging is responsible for a considerable amount of energy loss in the winter. The good news is that you don't have to settle with a poor-performing home. Insulated vinyl siding can stop heat transfer in its track, as it insulates right down to the wood studs.
In fact, insulated vinyl siding offers up to an 80% return on investment [11] with roughly $70 saved annually. 
Not only can thermal siding prevent energy loss, but it's exceptional at withstanding the elements. That's because quality vinyl siding is engineered with PVC, which is incredibly weatherproof. It can withstand all the weather we have here in New England without becoming damaged from moisture. 
In addition to insulation and weather resistance, insulated vinyl siding is sustainable to the environment. If you are asking "is vinyl siding recyclable?" The answer is yes! It can be recycled and made into other items made from plastic, keeping the old siding out of the landfills. As it is primarily made of salt, the manufacturing process efficiently has zero or no waste as scraps go back into the product stream.
Can You Install Vinyl Siding in the Winter?
With this investment or your home, you might be wondering about the best-insulated vinyl siding. Coastal Windows & Exteriors provides top-of-the-line foam-backed siding for New England residents. We install vinyl siding with unparalleled performance standards and incredible craftsmanship. Yes, even in the winter! 
Coming in an array of styles, our insulated vinyl siding looks like real wood [12]. It's available in classic siding panels as well as vinyl cedar shakes with a hand-split appearance. 
As your local certified and insured vinyl siding installers, contact Coastal Windows & Exteriors for insulated house siding [13] and more!