Are you wondering about the Farmers' Almanac 2021 winter prediction? Unfortunately, it's not the best news for us here in New England. As the temperatures begin to drop, it's the best time to think about becoming energy efficient in preparing your home for Fall & Winter. Farmer's Almanac predicts a season of shivers punctuated with bone-chilling, below-average temperatures along with the longest and coldest that we've seen in years this winter for New England!
This Article Will Discuss: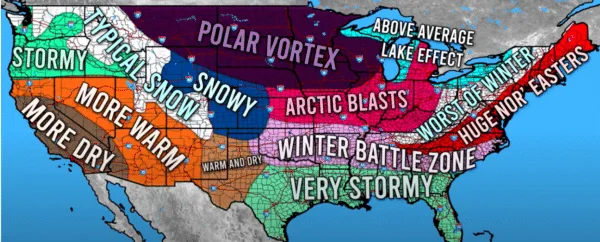 The super-cold of the coming winter will also bring lots of snow. Time to savor the rest of the fall because this winter is going to be cold, snowy, and a "whopper" of storms, according to the latest forecast prediction from the Farmers' Almanac.  

What Does The Old Farmers' Almanac say About This Winter?
The Farmers' Almanac predicts frosty "Winter Whopper" with not one, but three winter whopper snowstorms between January and March.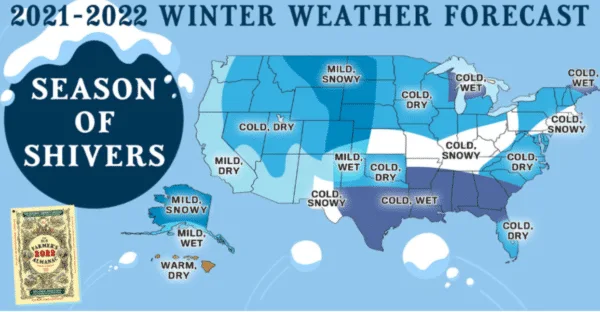 You can expect various types of stormy conditions with precipitation including snow, sleet, rain, and ice.  "This coming winter could well be one of the longest and coldest that we've seen in years." the almanac's editor, Janice Stillman, said in a statement.
January: The Cold, Hard Flakes

Winter's chill will start gradually. In January, it will trend toward colder conditions and be stormy in various forms: rain, snow, sleet, and ice.  

Winter Whopper? February's Flip-Flop Forecast: 

Farmer's Almanac says this month will have  "flip flop conditions"  with notable polar coaster swings in temperatures.  So grab your gloves and your jackets!   Prepare for another "atmospheric hemorrhage" lashing everything from strong winds to heavy rains and snow.

March's Lion, We're Not Lyin': 

March will be a microcosm of that flip flop weather wishing it were to end but then big doses of late winter storms ending with a bam of nor'easter with

unseasonably cold temperatures

mixed with strong winds, coastal flooding, and heavy precipitation.  
Winter Electricity Supply Costs Projected To Be Slightly Higher Than Last Winter
If this doesn't have you shaking in your boots, your heating bills are about to spike as well with natural gas prices going up as well as electricity costs.  According to National Grid, winter electricity supply costs are projected to be around 22% higher than last winter depending on the size of the home. 
According to CNBC, "Natural gas prices have doubled this year and are expected to continue to rise, resulting in larger winter heating bills for some consumers and higher costs for electric utilities."   The supply issue from the COVID-19 pandemic is still here with estimated wait times up t0 15 weeks arriving in Winter.  Time to ACT NOW!
Farmers Almanac 2021 Winter Prediction: Get Your Home Winter Ready Now
What can homeowners do to lessen the blow of the Farmers' almanac 2021 winter prediction? It starts with ensuring peak performance from the exterior of your home.  
Eliminate air leakage and prepare your home for the winter.  Give winter the cold shoulder and keep your home warm & cozy. Weatherizing your home helps you save money by saving energy, and it can also improve the comfort of your home. Everyone deserves a home that is safe, beautiful, comfortable, and energy-efficient. Whether it's a new roof, doors, windows, or siding… Coastal Windows & Exteriors will make your home comfortable and help save on your energy bills. 
Windows: Keep Cozy with Energy-Efficient Replacement Windows 
When it comes to keeping your home in the winter, many homeowners look to their windows to conserve energy. The most dramatic upgrade you can make is replacing single-pane windows with energy-efficient dual or triple panes.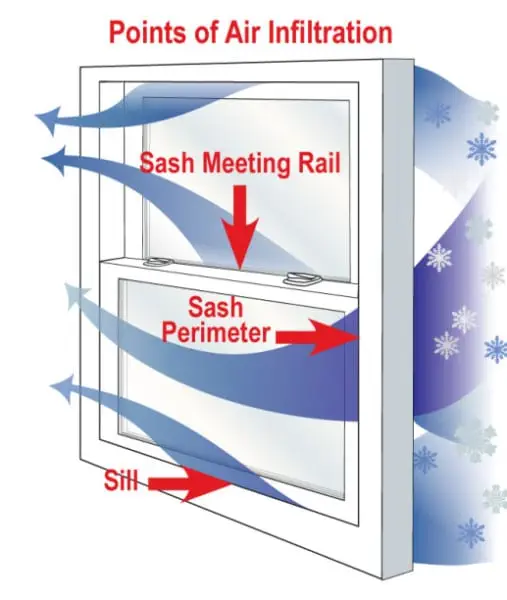 Your window's performance can make a big difference in your home's comfort levels, especially during freezing temperatures. Air infiltration and drafty windows allow for cold winter air to leak inside your home. Not only does it make it cold and drafty indoors, but your furnace is constantly running to keep up with your windows' poor performance. 
New window installation can help reduce air infiltration to a trickle, as our windows only allow .01 CFM of air leakage per minute, making them 23 times more airtight than the industry average. 
Keep in mind that the average home loses 25% of energy through old and drafty windows.
Insulating glass packages with argon and krypton gases ensure heat is contained inside your home.
Meanwhile, foam-filmed frames provide yet another layer of insulation.
Replacing your windows now allows you to ride out all winter storms in a warm, cozy, and draft-free home.
Siding: Insulate with Foam-Backed Vinyl Siding
In the winter, your home might be losing heat right through the wood studs of your exterior cladding. Otherwise known as heat transfer, homeowners can lose up to 30% of your home's energy right through the walls.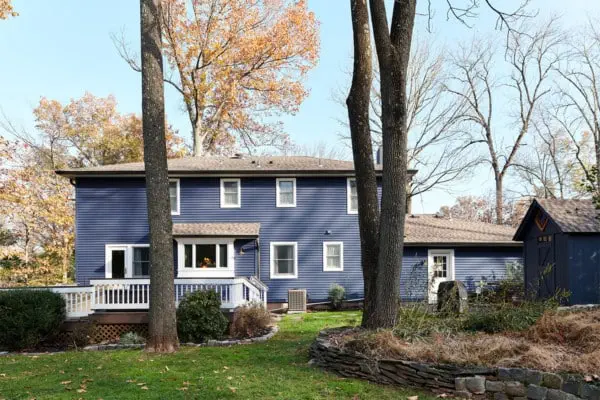 With new vinyl siding, you help to further seal your home's thermal envelope. Insulated siding is essentially wrapping your home in warmth. Choosing our insulated vinyl siding provides you with more insulating power than fiber cement, wood, engineered wood, or brick. 
Crane Board Solid Core Siding offers exceptional performance benefits during winter weather with:
Highest R-value cladding

Insulates over wall studs, reducing thermal bridging

Impervious to moisture, including snow 

Offers a protective layer over the wood studs. It blocks heat transfer from occurring, ensuring that heat does not escape through the exterior cladding. 

You'll also want to install vinyl siding with

house wrap

, another one of the superheroes with moisture-proof power. House wrap

prevents moisture damage, mold

, and also reduces drafts by acting as a barrier.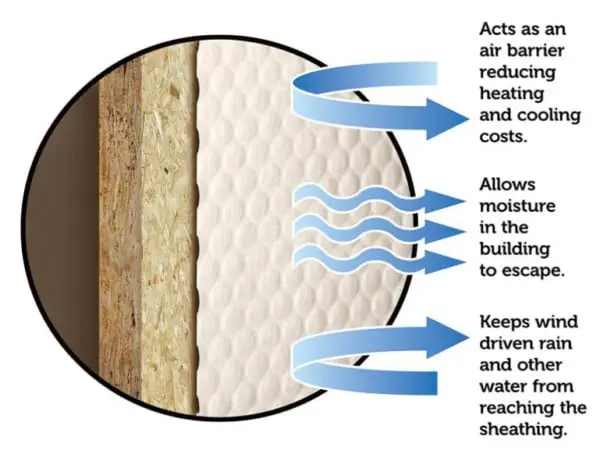 Roofing: Replace Old and Outdated Roofs
Yet another area where energy tends to escape is through the roof. The attic should be close to the temperature that you'll find outside, even in the winter. However, if there is leakage in your attic, it will be difficult to maintain the correct temperature in the attic space.
Energy loss through the roof and attic happens for several reasons. 
You may not have enough

insulation

in the attic, which you can

seal up small spots with low-expansion foam insulation

.

The other issue comes with

air leaks

. Common air and precipitation leakage spots on the roof include the chimney flashing, skylights, pipes, aged shingles, or drip edge on the rakes and fascia. Keep in mind that if your roof is leaking from rain, it's also likely losing energy during the cold winter months. 

Don't forget that icy conditions from the Farmers' Almanac can also lead to

ice dams

on your roof. If your roof becomes too warm in the winter, the ice will melt off the roof and trickle down into the gutters,

forming ice dams

. These become incredibly heavy and can easily damage your roof over time. 

The flip-flopping winter weather will lead to an Oreo effect, where snow will melt and turn to ice with more snow piling on top. This essentially creates an ice-and-snow sandwich on your roof, much like an Oreo cookie, except it's not a fun treat for anyone. 
By re-roofing your home now, you'll save yourself from potential energy loss during the winter. Not to mention, old roofs will take a severe beating from the impending snowstorms of the Farmers' Almanac 2021 winter prediction. No one wants to be in mid-snowstorm and discover that their roof is failing!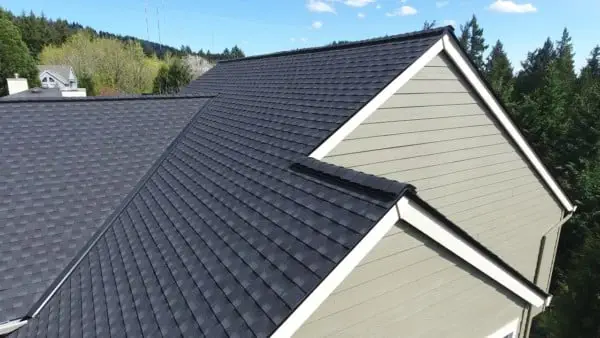 Why Act Now?
This winter is around the corner and with supply and demand issues with products 6-22 weeks out, you need to ACT NOW! Don't have your home feel like a "Season of Shivers" according to the winter forecast-stay out of the cold!
Fall is the time to get your home winter-ready. Waiting until the dead of winter to upgrade your exterior will have you losing out on maximum energy-saving and comfort benefits. Not to mention, natural gas prices going up along with electricity costs can take a bite out of your bank account. Contact us now to get a free quote and get your home winter ready.