If you're a homeowner looking to add sleek and modern appeal to your exterior, look no further than black frame replacement windows. This cutting-edge upgrade is becoming one of the top trends for stylish New England homeowners! Also, black windows with white exterior siding looks amazing! Want to be on the hottest trends and add black windows to your home- check this blog out!
This Article Will Discuss: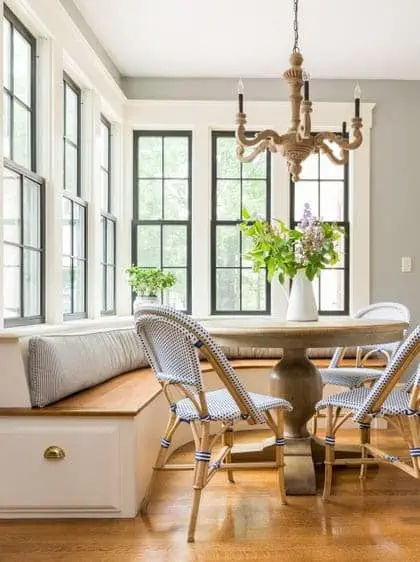 Image Source: black windows jessica delaney boston globe
Black frame vinyl windows give the same benefits as other vinyl window colors. The difference is that their color palette brings an unexpected upgrade to your space. Ironically, black windows are not a new concept but they feel exceptionally fresh.
White or Black Frame Vinyl Windows?
When stacked against white, you might wonder how to make a decision on choosing white or black frame replacement windows. These are a few considerations to keep in mind.
White Vinyl Windows
White vinyl windows are a classic upgrade for your home
Creates a timeless touch
Easy to incorporate into all different types of architectures
Make your space feel light and airy
Comes in a variety of window styles, just like black windows
Black Vinyl Windows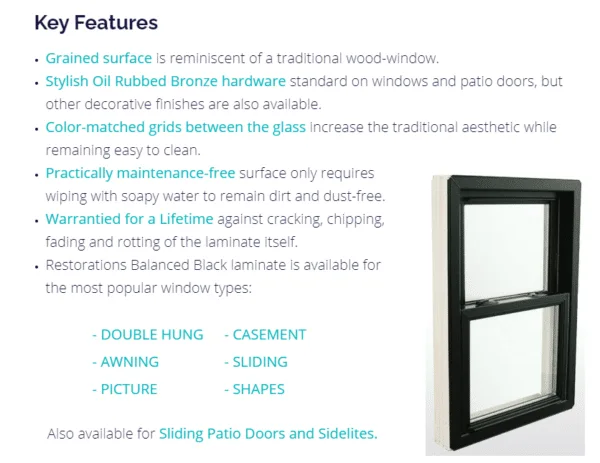 Bring contemporary, modern, and slight industrial vibes to your space
While black windows are affiliated with these decor styles, the truth is they are aesthetically pleasing for nearly any home
Add a hint of drama to your exterior
Create incredibly clean lines on your home
Instead of blending with your siding, black vinyl windows can make a stunning contrast
They'll make the neighbors look twice!
The differences between white and black windows are purely aesthetic. You can expect the same incredible performance benefits whether you choose black or white!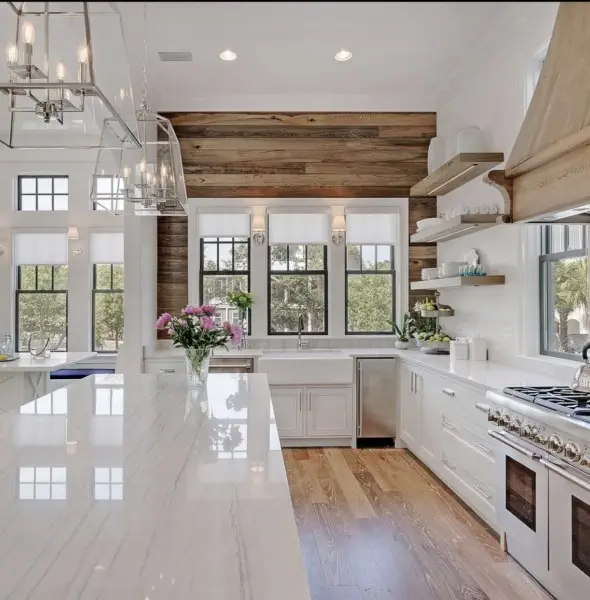 Image Source:  Old Sea Grove Homes
Want Black Windows? Carefully Consider Your Interior & Some Design Tips
If your plan is to upgrade with black windows, you also need to consider the interior of your home. The frame is black on the outside of your home as well as the inside!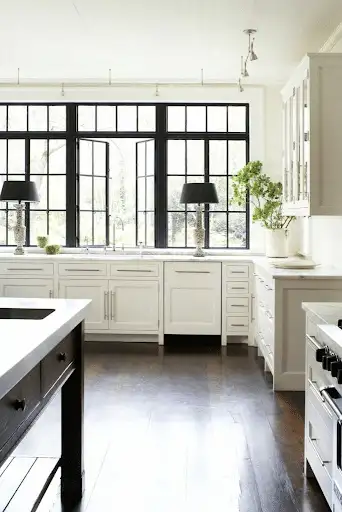 Image source: HGTV
In terms of the interior of your home, black vinyl window frames can:
Blend in and almost disappear, depending on the color of your walls
The black frame can enhance the view of the outdoors, drawing the eye outside
If you live in a wooded or coastal setting, the black frames can blend into the view
Adds a stark contrast when using black windows with white trim, where the trim serves as a frame around the black windows to make them stand out more prominently
Be art themselves- show them off and don't cover them up.  Want that look all over Instagram.  Click here to get a quote.
Balance your home.  Since black windows are a bold look keep your siding white as well as white interior accents inside the home.
Create a great look inside your home by repeating black interior accents.  I mean who doesn't love some shiplap, right?
Look great with simple grid patterns.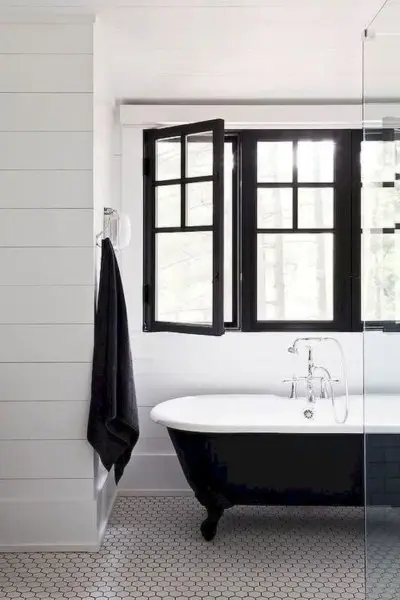 Thinking of Painting Windows Black?
You might have existing wood windows and you're thinking of painting windows black. While this sounds like a fast and sensible upgrade, it's not the smartest way to go to get a home with black windows.
Why You Shouldn't Paint Your Windows Black
Painting window trim black requires maintenance over the years. Wood windows are notorious for their maintenance drawbacks, and the black paint will eventually wear away over time. This is especially true for the exterior portion of the window.
Generally, painting your windows is never a good approach. Not only does it require upkeep, but it can also void your window warranty entirely! Why paint your windows black when you can have quickly black vinyl windows that come with a factory finish warranty installed, engineered to keep your home energy efficient and comfortable?
Painting wood windows leads to:
Unsightly peeling or chipping paint over time
Even the best exterior paint will wear away from New England's climate, requiring you to repaint again and again
No performance-related benefits from painting window trim black.
Constant worrying over the foundational state of the windows. Are they chipping or even rotting from exposure to the elements?
Safety issues of climbing on a ladder as a DIY approach to paint your windows black
Cost consideration of professional painting. This can get pricey!
Other Vinyl Window Colors to Explore
It's not just black and white in the world of vinyl replacement windows. We love all the colors here at Coastal Windows & Exteriors!
We have plenty of additional colors to choose from in our color palette:

Click here to learn about our window color and grid options.
Are Black Framed Windows More Expensive?
Great news! Black framed windows are not any more expensive than white vinyl windows. It's just a different color option to showcase a new stylish curb appeal.
If you're interested in the exact cost of black windows, the best approach is to contact us for a quote.
Not only will this give you an idea of the cost of black windows, but it also offers a way to explore financing options. In fact, 85% of homeowners ultimately choose some form of financing to upgrade their exterior.
We're also happy to offer our promotional offers for black frame replacement windows.
Ready to get started? Book a free estimate now.